Sauna Oval "Cupella ComboLux Hobbit" 2:1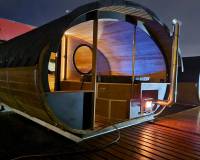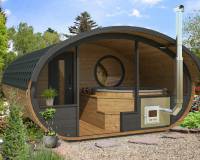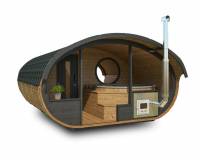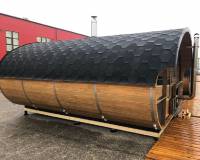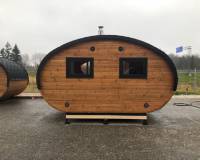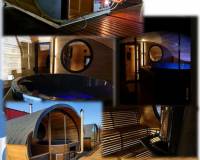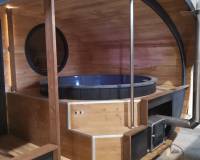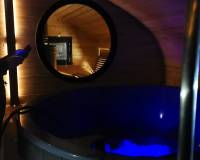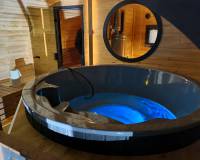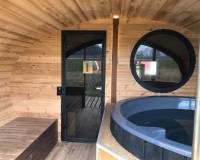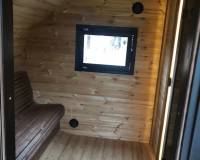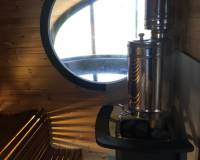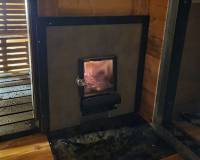 Oval Sauna "Cupella ComboLux Hobbit" 2:1 (2 sauna rooms + delux jacuzzi, Thermal Pine)
Measurements: 400 x 500 cm. Sauna 400x195 cm Wall thickness 42mm, vertical wall 28mm.
Sauna with 2 rooms. (packaged on two pallets 505x120x120cm and jacuzzi 100x200x200 cm 2100 kg)
Heat-resistant plate behind the heater
Ventilation
round window in the sauna room
Two opening windows
Ergonomic cupella benches (Termica)
The inner door is glass
The entrance door with a lock with a wooden frame and glass
The bitumen roof (color: black, brown, green)
Woodburning or electric heater Harvia
Chimney (for wood stove)
Electrical system and LED lighting inside and outside the sauna

Jacuzzi delux 200 with integrated woodburning stove
insulated cover
massage system
Stainless steel heater with 2 meter chimney and chimney protection
Indoor fiberglass benches
LED lighting
Delivery time: 6-8 weeks

The product has received the European Union Design Registration Certificate No. 008702989.
Contact us for more information
Responsable del tratamiento:
Serendipity Bazar,
Finalidad del tratamiento:
Gestión y control de los servicios ofrecidos a través de la página Web de productos realizados con madera. Envío de información a traves de newsletter y otros.
Legitimación:
Por consentimiento.
Destinatarios:
No se cederan los datos, salvo para elaborar contabilidad.
Derechos de las personas interesadas:
Acceder, rectificar y suprimir los datos, solicitar la portabilidad de los mismos, oponerse altratamiento y solicitar la limitación de éste.
Procedencia de los datos:
El Propio interesado.
Información Adicional:
Puede consultarse la información adicional y detallada sobre protección de datos
Aquí
.